Dockominiums : A Boat Slip By Any Other Name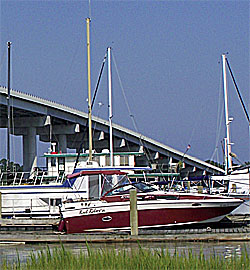 To the uninitiated, the term dockominium might be bewildering, but to a boater it means luxury, ease and investment possibilities. Sometimes called wet slips or dry docks, dockominiums are growing increasingly common in coastal areas.
Rather than paying ever-rising rental fees for boat storage, the tide is turning to dockominiums, a boat slip or dry dock you purchase-with a mortgage and insurance, just as though you were buying a home. The mortgage on a typical dockominium stretches between 10 and 20 years, and the property usually appreciates in value. The choice to occupy your slip or rent it to transient or local boaters is entirely up to you.
According to information on the Web site www.BuyTheSeaSC.com, owning a slip has become increasingly important because "the quantity of available boat slips continues to plummet worldwide while the number of new boaters continues to increase by an average of 18 to 20 percent annually."
According to Bob Smith, part owner of Buy The Sea South Carolina, "Dockominiums have been around for several years but are more popular now because of lack of space." Large developments, condominiums and hotel projects along prime waterfront have seized most of the land, thus crunching the amount available for boats.
Buy The Sea sells dockominiums for Harbourgate in North Myrtle Beach, South Carolina, and Day Beacon in Belhaven, North Carolina, near Albemarle Sound.
"The way it works," said Smith, "is you buy a condominium and with the package is a boat dock."
There are various purchase options, so find the one that is right for you.
"Prices are down. It's a buyer's market," Smith continues, suggesting that buyers take the time to find the locations that fit their specific lifestyles best. "Since Harbourgate is in the North Myrtle Beach area, it is surrounded by a lot of activity, whereas Day Beacon is away from things."
Whether you like the hustle and bustle of a tourist location or lazy days on the water near a small town, there are choices.
Smith suggests that potential buyers first determine "how you want to use your boat and how close you want to be to bigger water."
It is important when purchasing a wet slip that the water is deep enough for your vessel even during low tide. You will also need to know what kind of upkeep the marina provides for the dock, waste removal and fuel.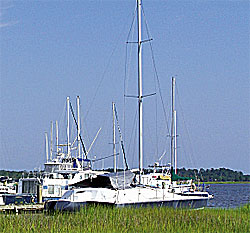 "It's like any investment," Smith says. "Observe and do your research."
Leslie Whitener, assistant harbor master for Harbour Town on Hilton Head Island, agrees and offers additional advice.
"To avoid any confusion, communicate with the marina staff," he says. "Always read and understand the contract with the marina before purchasing to be knowledgeable about important issues such as hurricane procedures."
It's also important to realize that the marina's staff has the responsibility of renting slips for owners who are not on the premises and that the staff's job is to fill the marina. This can become tricky during holidays because peoples' plans often change at the last minute.
"Everyone's goal is to generate revenue," Whitener explains.
"Knowing you always have a spot to put your boat is a great feeling," according to Whitener, who adds that Hilton Head is a prime location for boaters traveling the Atlantic coast to the Bahamas or beyond. North Carolina and South Carolina are midway points for many travelers and offer quick access to the Gulf Stream for deep-sea fishing or to a wide variety of beautiful inland waterways.
Dockominiums are not unique to the coastline but are available on lakes and rivers throughout the Carolinas and the entire country. They are the perfect solution for the avid boat owner, providing both storage and potential revenue.