Easy Print

Email This Article To A Friend

Mortgage Calculator

Folly Beach Weather

Golf Courses

About Folly Beach


Turtle Bay: Folly Beach, SC
IT-S A RARE FIND FOR BOATING enthusiasts who want to be able to enjoy the water and still be close to the charms of Charleston. Turtle Bay townhouse community is in its third year of offering just such an opportunity.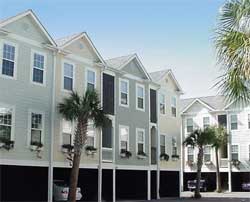 Located on the Folly River side of Folly Beach, Turtle Bay is unique in that each of its 30 units has a boat slip, offering owners easy access to the Atlantic Ocean or the ability to just cruise the scenic estuaries nearby.
Standing on your private porch overlooking the river and marsh, it-s hard to imagine that you are really only 15 minutes from downtown Charleston. The natural surroundings only add to the appeal of these luxurious homes which offer spacious 1,550 square foot floor plans. Each unit includes three bedrooms and three full baths, including a master bath with a whirlpool tub and separate shower. Beautifully constructed, the homes also feature hardwood floors, crown molding and granite kitchen counter tops, with large, private decks off both the living room and master bedroom.
"People who buy here come to stay," says Dave Landry, certified Real Estate Consultant with Dunes Properties.
While Turtle Bay-s proximity to Charleston is definitely a motivating factor for some buyers, Dave says that people should not underestimate the draw of Folly Beach itself. The beach town has drawn for generations. "There is a different atmosphere in Folly than in the other island communities around Charleston," he says. "It-s still a laid-back, old-timey beach town and people enjoy that. Things are definitely more relaxed here, and a lot of people find it appealing."
With the beaches, restaurants, spas and healthcare all located here, many residents feel there is little need to venture further than their own back yard, unless of course they are taking their boat out to enjoy the water.
Turtle Bay-s value has almost doubled since opening 2002, but they offer some of the best prices in the Charleston island market.
Would you like this content on your website or do you have any questions about this article? If so, contact publisher@mediaservices1.com.